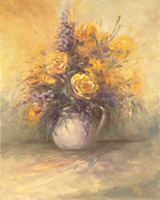 When it comes to painting, Mary L Ross is an artist whose heart and soul transfers to the canvas every time she picks up the brush.

Born in St. Charles, Missouri, Ross was raised in St. Louis. From her earliest memories, Mary was surrounded by art at the side of her mother, herself a talented artist, and the passion for painting was passed on. As early as the fourth grade, one of Ross' drawings of a classmates was framed by the classmate's parents and hung on their wall. Ross was elated, and the rest is history.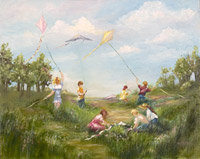 Ross' commissioned works are held in private collections
in Missouri, California, Texas, and Lousiana. Three recent commissions now grace the walls at The Brown-Ingram Gallery in the Jack E. Brown Engineering Building at Texas A&M University in College Station, Texas. Her work was shown recently at the inaugural Market Street Art Show in The Woodlands, Texas. Other shows include the Westheimer Art Festival, la Valita on the Riverwalk in San Antonio, as well as shows in Dallas, Fort Worth, Corpus Christi, Austin, Houston,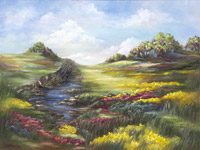 Louisiana, and Oklahoma. Ross is also a member of the Oil Painters of America.

Early in her art studies, Ross attended Southwest Missouri State, Long Beach State University, The University of Texas, and Sam Houston State University. Perhaps most notably, was awarded a sholarship to attend the Laguna Gloria Art Museum in Austin, Texas. Ross has studied with some of the art world's most prominent
players and traveled coast to coast, from Palm Springs to Nantucket, in her search for inspiration.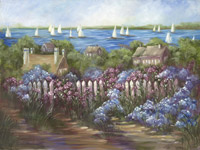 Preferring to paint flowers, landscapes, and children, Ross imbues her paintings with a joyfullness she hopes will also be felt by the viewer. She paints to inspire, to convey the wonder of life, and to remind the beholder of the many blessings we have all been given. Her work reflects a luminescent light - finding its way from Mary's brush into the painting itself.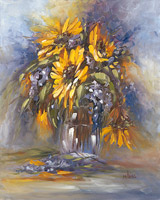 Ross resides in The Woodlands, Texas. She has three sons and four grandchildren.